Sep. 28, 2023
Komatsu Ltd. (hereafter "Komatsu") (President and CEO: Hiroyuki Ogawa) will launch a new 3-ton class electric mini excavator equipped with a lithium-ion battery in the Japanese market in October this year, following the European market. In the domestic construction equipment market, where the electric construction equipment market has not yet been formed, Komatsu is working to quickly develop this new market with an eye to achieving carbon neutrality by 2050 by introducing a variety of models and meeting customer needs.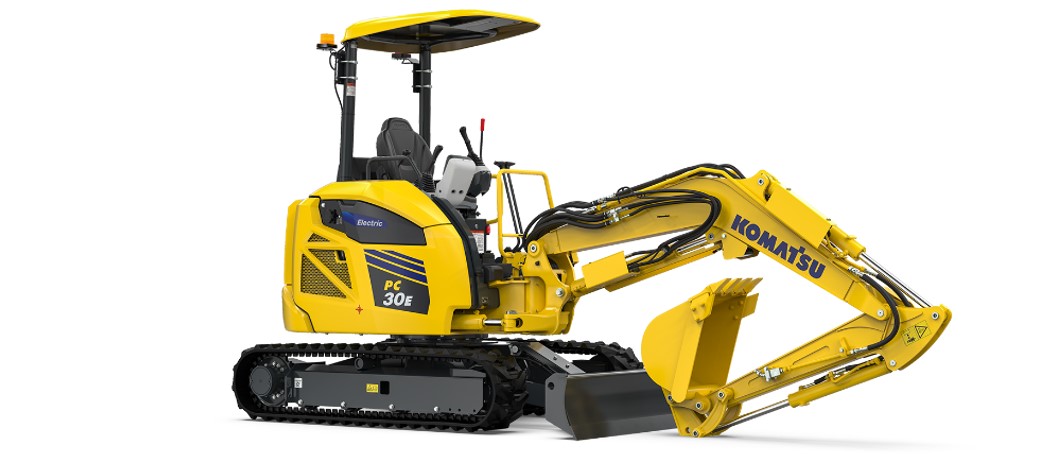 PC30E-6 electric mini excavator
This new machine is a fully remodeled version of the "PC30E-5" a 3-ton class electric mini excavator which was introduced as a rental model in the Japanese market in 2020. While maintaining the current machine's features of zero exhaust gas, heat emissions and low noise, the new machine is equipped with a lithium-ion battery in place of a lead-acid battery, which extends its operating hours and makes the vehicle more compact and lightweight, thereby improving the convenience for customers.

Komatsu has positioned FY2023 as the first year for the introduction of electric construction equipment to the market. It is working to create an electric construction equipment market by helping customers improve their work environment and achieve carbon neutrality, through introducing a variety of models including the launch of fully remodeled 3-ton class machines in Japan.

DANTOTSU Value is defined as customer value creation that generates a positive cycle of improvement of earnings and ESG resolutions in Komatsu's mid-term management plan, entitled "DANTOTSU Value - Together, to "The Next" for sustainable growth". Through this DANTOTSU Value, Komatsu will strive to create new values in order to take steady steps forward to the next stage for the workplace of the future and pass on a sustainable future to the next generation.


[Main features of the product]
1. Environmental friendliness and workability
・No exhaust gas, low noise for improved working environment
In indoor and nighttime work, engine-driven machines could be burdening the on-site and the surrounding environment with exhaust gases and noise. This machine achieves a clean working environment with zero exhaust emissions, and it does not generate loud noise like an engine vehicle, it improves safety through communication among workers, and provides positive considerations for the surrounding environment.

・High-capacity, high-output lithium-ion battery and rapid recharging for extended hours of operation
By adopting the lithium-ion battery, which has low self-discharge and can be repeatedly charged and discharged, and the stationary charger capable of rapid charging in a short period of time, the PC30-E-6 can offer continuous operation even by repeating short-time charging during breaks. In addition, Komatsu's unique charging control system enables efficient high-capacity charging in a safe and reliable manner.

・Compact and lightweight
By installing a high-energy density lithium-ion battery and simplifying the cooling structure with an air-cooled motor/inverter, Komatsu has made the machine compact and lightweight while extending its operating time. Thanks to its electric power system, the machine provides a clean working environment for indoor and urban construction, which requires work in confined spaces.

・Work modes which allow selection according to work conditions
Three work modes are available in total: the powerful, high workload mode, and two mode levels to reduce power consumption. The operator can easily select a desired mode from the monitor panel according to the work to be performed.
2. Comfort and safety
・Two-pillar canopy with excellent forward visibility
By adopting a two-pillar canopy that conforms to ISO safety standards, the machine provides forward visibility for safe and reliable work. Together with the installing a retractable seat belt, it also protects the operator in the event of the machine rollover or falling objects.
3. Safety and serviceability
・Body structure for safe and easy daily inspections
As routine checkups and high-voltage areas are completely separated, routine checkups can be safely conducted without worrying about high-voltage danger. Furthermore, routine checkups and periodic maintenance items have been substantially reduced because the high-voltage section does not require regular checkups, there is no radiator due to the use of an air-cooled motor/inverter, and there are no engine or fuel related inspection items.
[Main specifications]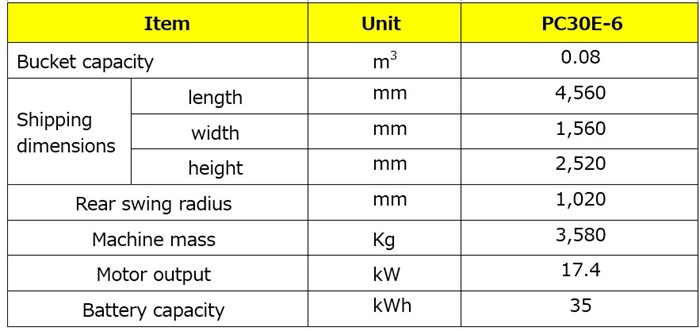 [Month of launch] October 2023
[List price]    JPY12,000,000 (Ex-works and no consumption tax)
[Marketing target] 50 units/year (only in Japan)


(Reference) News releases related to electric construction equipment
First Phase: Komatsu to launch new 3-ton class electric mini-excavator equipped with lithium-ion batteries to be introduced to the European market
https://www.komatsu.jp/ja/newsroom/2023/20230718

Phase 2: Komatsu ready to launch new 20-ton class electric excavator equipped with lithium-ion batteries Introduced to the market
https://www.komatsu.jp/ja/newsroom/2023/20230721

Phase 3: To launch the PC05E-1 electric micro excavator developed jointly by Komatsu and Honda
https://www.komatsu.jp/en/newsroom/2023/20230926
No : 0049(3272)
Corporate Communications Department
Sustainability Promotion Division
Komatsu Ltd.
tel: +81-(0)3-5561-2616
mail: JP00MB_cc_department@global.komatsu

*The information may be subject to change without notice.