Sep. 09, 2022
 Komatsu Ltd. (President and CEO: Hiroyuki Ogawa) has issued the integrated report, "Komatsu Report 2022".

 We publish our integrated report, Komatsu Report, annually for our stakeholders to introduce Komatsu Group's efforts to realize sustainable growth. The Komatsu Report mainly describes on our value creation business model of working for sustainable growth by turning a positive cycle of improving earnings (financial indexes) and solving ESG issues (non-financial indexes) as we implement growth strategies in the mid-term management plan.

 This year's report focuses on the growth strategy to create new value for the next 100 years, as set forth in the three-year (FY2022-FY2024) mid-term management plan "DANTOTSU Value - Together, to 'The Next' for sustainable growth," which we announced in April this year.

 It consists of a message from President about his thoughts regarding the process of formulating the mid-term management plan and human resource development, a message from CFO concerning his financial strategies to improve corporate value, our initiatives to respond to climate change, including information disclosure based on TCFD Recommendations, and a message from President, Mining Business Division about our efforts to achieve both sustainable resource development and Zero Emissions in mining operations, and other essential contents for our stakeholders.

 In order to resolve ESG issues steadily through our growth strategies, we have set KPIs (Key Performance Indicators) for key initiative activities.

 We have also clarified the relationships between our material issues, which we defined prior to developing the new mid-term management plan, KPIs, and highly relevant targets of the United Nations Sustainable Development Goals (SDGs).

 DANTOTSU Value is defined as customer value creation that generates a positive cycle of improvement of earnings and ESG resolutions in Komatsu's new mid-term management plan. Through this DANTOTSU Value, Komatsu will strive to create new values in order to take steady steps forward to the next stage for the workplaces of the future and pass on a sustainable future to the next generation.
"Komatsu Report 2022"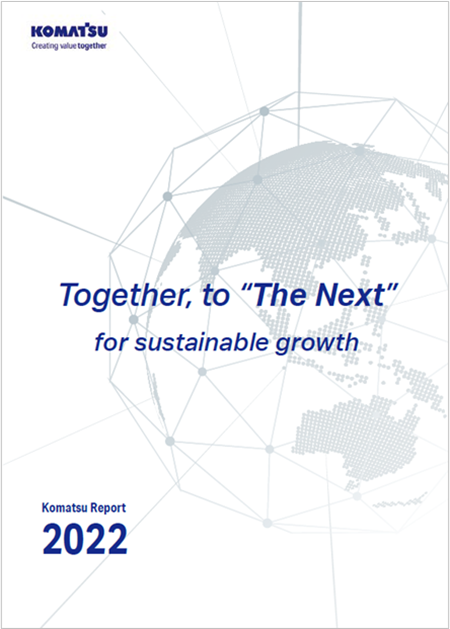 Japanese: https://www.komatsu.jp/ja/ir/library/annual
 English: https://www.komatsu.jp/en/ir/library/annual

 More detailed information on environmental and social activities based on the Sustainability Policy is disclosed in the ESG Data Book.

ESG Data Book
Japanese: https://komatsu.disclosure.site/ja/themes/121
 English: https://komatsu.disclosure.site/en/themes/121
No : 0044(3164)
Corporate Communications Department
Sustainability Promotion Division
Komatsu Ltd.
tel: +81-(0)3-5561-2616
mail: JP00MB_cc_department@global.komatsu

*The information may be subject to change without notice.