Farmland & Infrastructure-reconstruction
From minefield to land fertile with possibilities. From minefield to land fertile with possibilities.
By restoring farmland and roads, people regain their livelihoods.
The Project does not end with the clearing of landmines. That step only restores the land's ability to fulfill its role in the development of farmlands or construction of roads. The two main crops of Cambodia are rice and cassava. For efficient cultivation and harvesting, land intended for rice paddy-use needs to have the unevenness of the ground and other irregularities eliminated. The result of using bulldozers equipped with ICT to level the land and prepare it for rice paddy cultivation and harvesting is a nearly doubling of yield. In addition, irrigation canals and reservoirs have been created to alleviate water shortages. Previously farming in the dry season was not possible. Now more and more farmers are enjoying access to water from irrigation canals for their crops. Moreover, construction of a network of new and improved roads connects farmers not only with towns and the region but also with vital lifelines. The impact of all these improvements is large. People living in villages are choosing to stay. Those who left to find work in other countries are returning to build prosperous lives on the reborn land. Soon the newly constructed roads will be busy with people coming and going between home and villages alive with hope and vitality.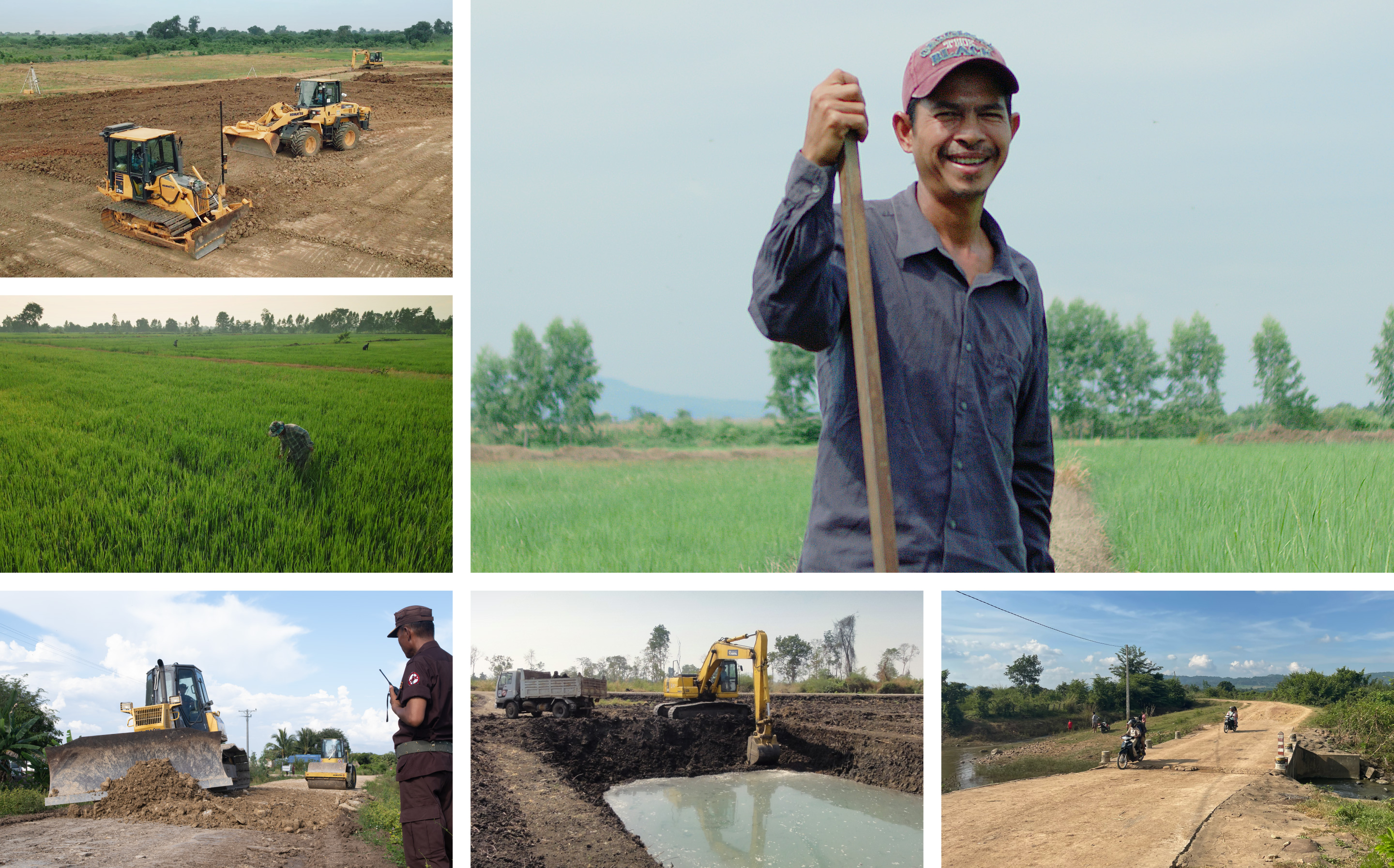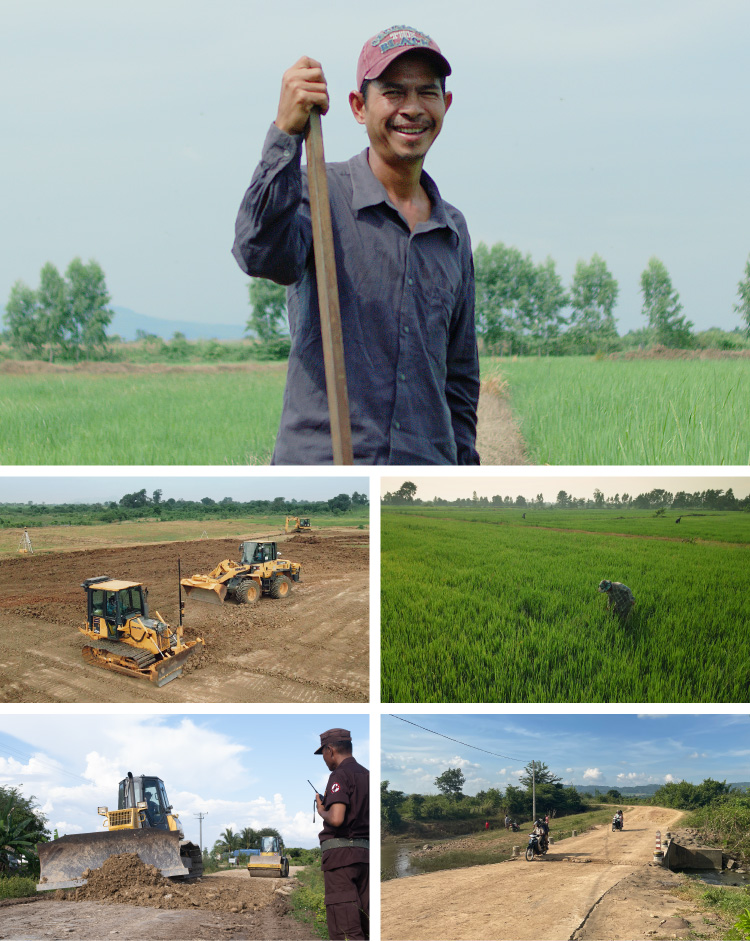 ---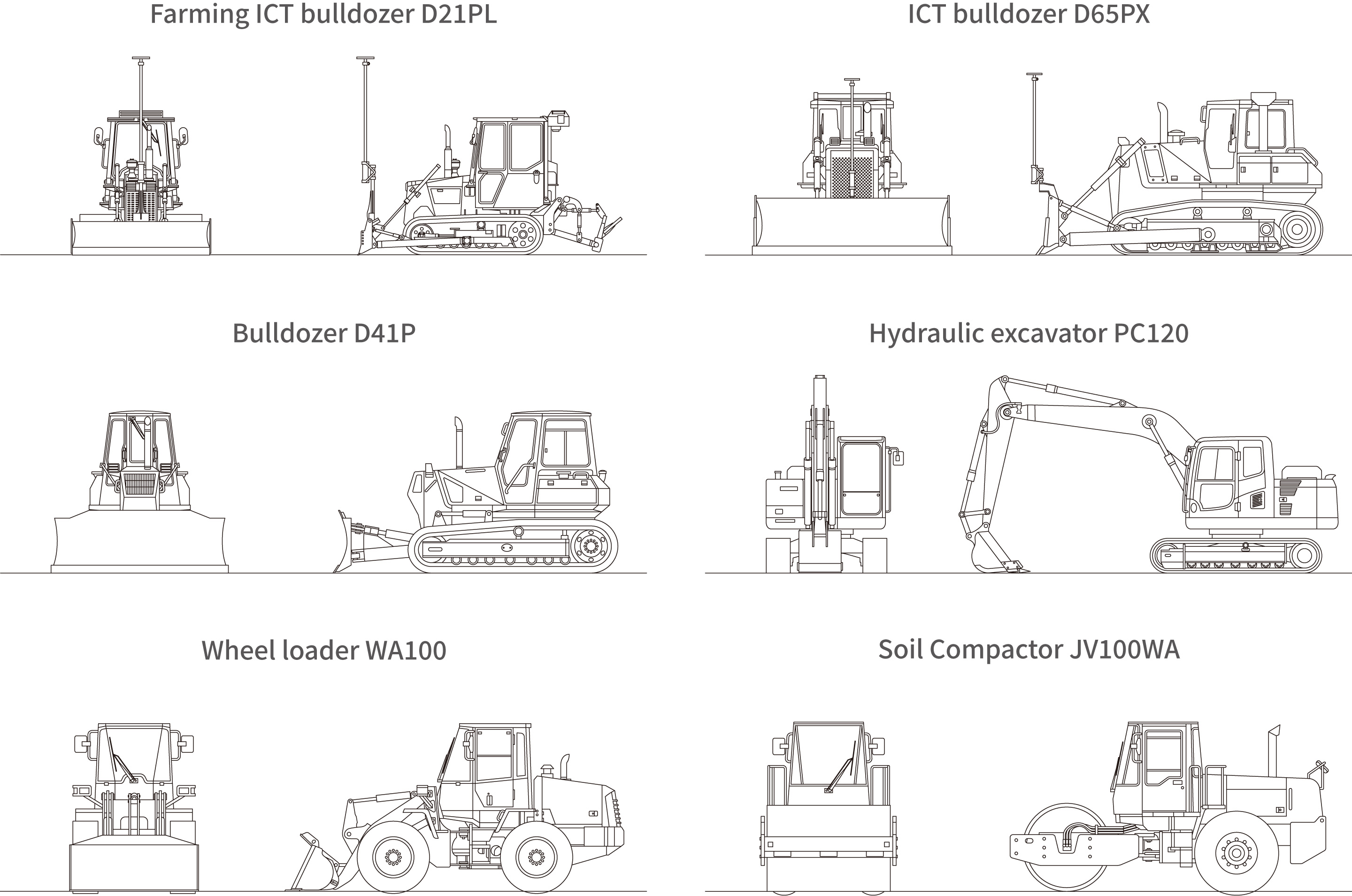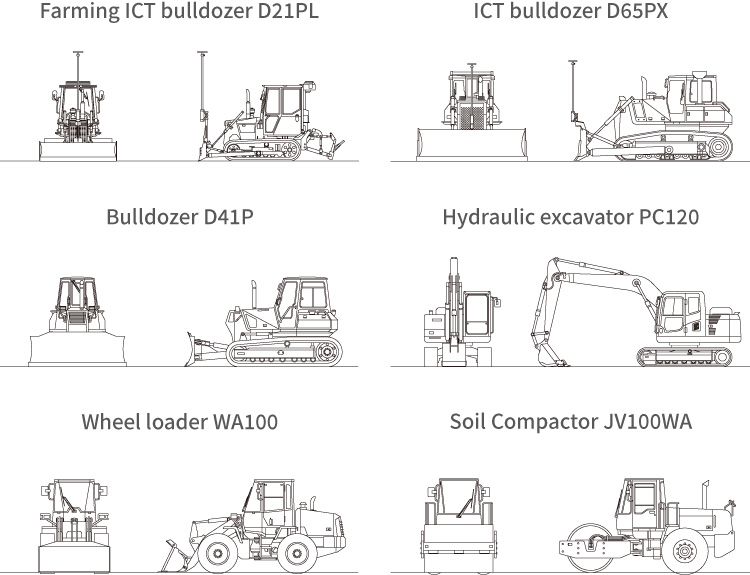 ---
"The lifelines we create are truly indispensable for maintaining life."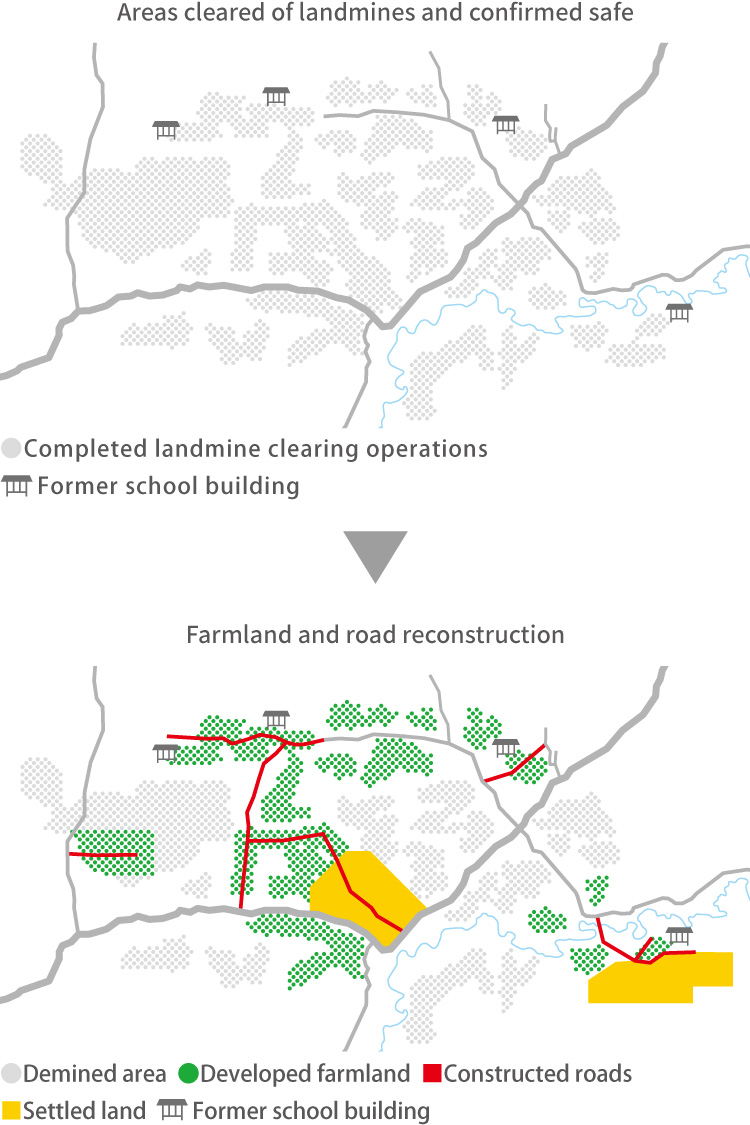 Working with the Japan Mine Action Assistance Association (JMAS) as a partner, the Project has converted about 4,300 hectares of minefields into safe, usable land and has improved or newly built about 100 kilometers of roads. It is turning minefields and unused land into lush farmland. Previously roads connecting communities with the national highway would be flooded and unpassable with every rain. Maintenance, improvements, and new construction are keeping these lifelines open under all weather conditions. Another result is the birth of new communities.
---
"We will continue to help rebuild commubities."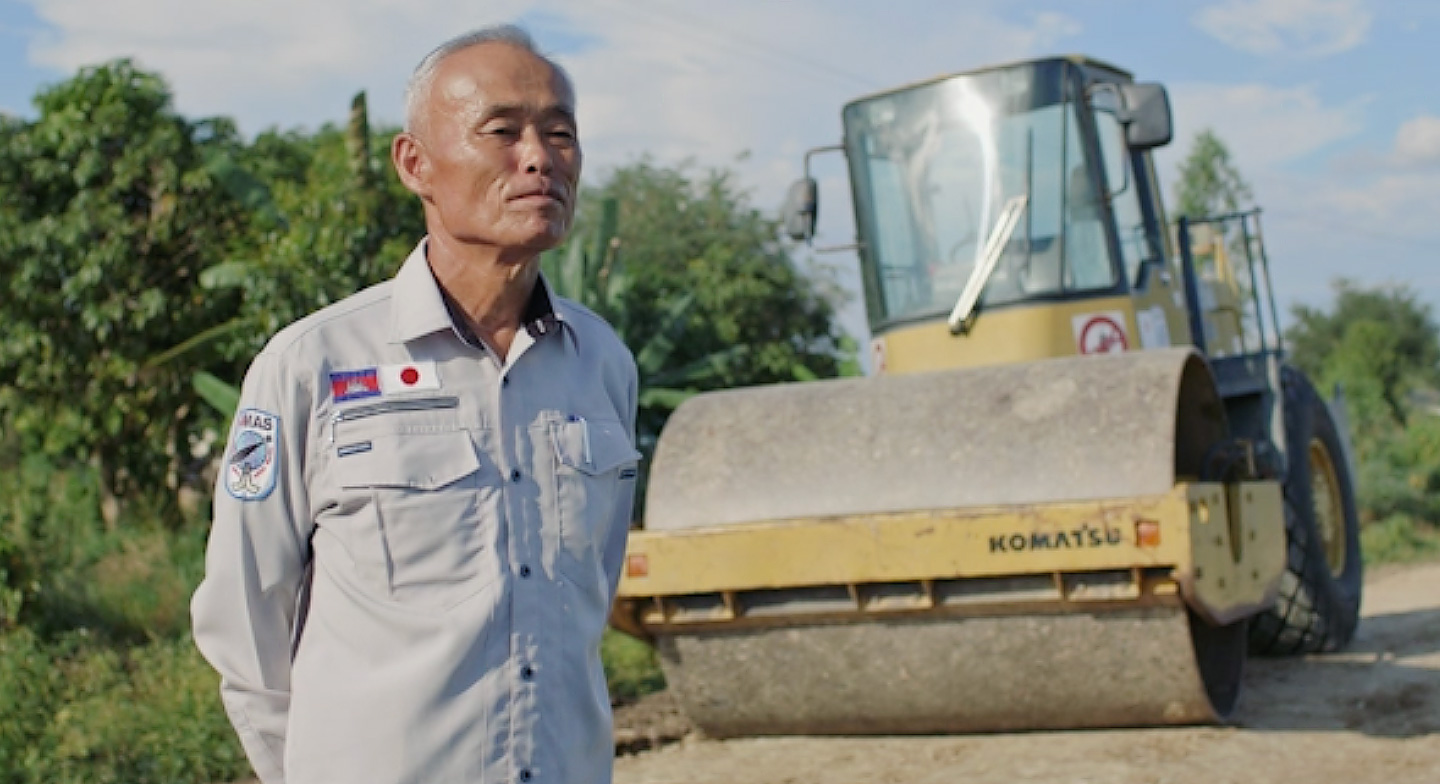 Nobuyoshi Shimozono,
JMAS Technical Advisor
"I moved to Cambodia in 2011. At first, I felt pressured to assume responsibility for just the existing roads and schools that my predecessors had built, and no more. Now I'm trying to find ways to go a step further. Seeing the children grow older year after year, it's like watching my own grandchildren grow up. I am so proud of them.
---
"Because I want to see the faces of happy farmers."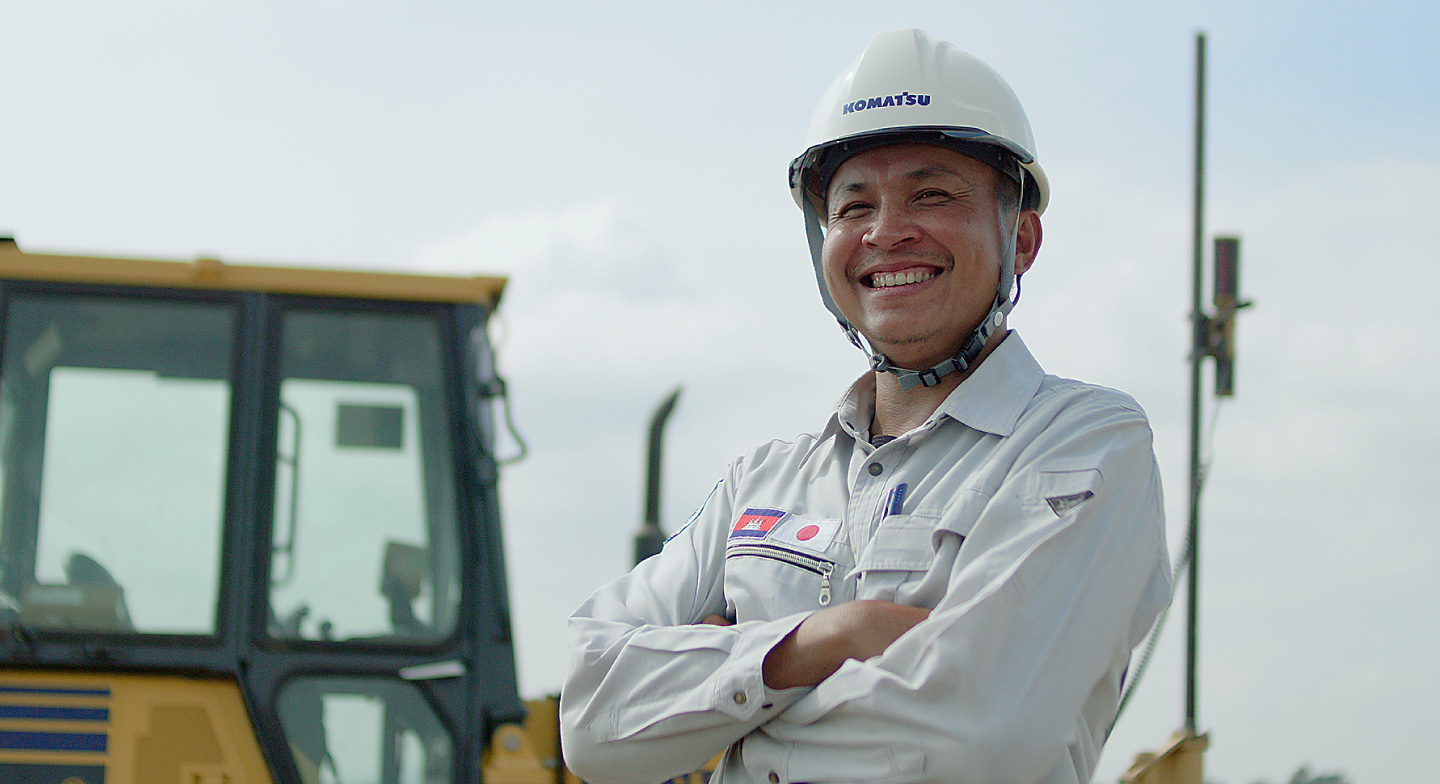 Mr. Am Vithou,
JMAS Project Manager
" I started this work because I got a job offer from JMAS at university where I was studying Japanese. At that time, farmland was inadequately maintained so cultivating rice was not profitable enough to make a decent living. Many people went to Thailand seeking work and a better income. I thought that this was the biggest waste of our country's most valuable resource – our people. I wanted to improve to level the farmland, increase the yield, and encourage as many people as possible to return to Cambodia."
---
"Living every day with peace of mind is a real pleasure."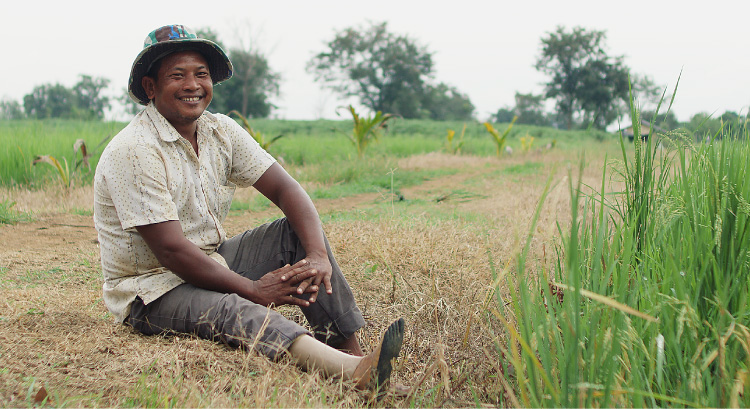 Mr. Pho,
Roung Village
"Back in the old days, the paddies were very uneven with anthills here and there so the harvests were small. Now thanks to land improvements, harvests that previously reached about 2 tons per hectare have increased to 3 tons. Improvements to waterways and irrigation canals mean that I am happy to do farm work even in the dry season. Life is easier than before. I want my children to learn a lot and become prosperous."
---




---