Construction Mining and Utility Equipment
Construction and Mining Equipment
Forklift Trucks
Forklifts are used to lift and move materials.
Forestry Equipment
Centering on Komatsu Forest AB, a wholly owned subsidiary in Umea, Sweden, Komatsu manufactures forest machines to meet local needs at strategic manufacturing bases worldwide. Specifically, tire-type forest models (harvesters and forwarders) are produced in Umea, Sweden, and crower models (feller bunchers , Log loder), in KAC and TimberPro, U.S.A. Komatsu also produces a number of forestry-specific models based on construction equipment(harvester and log grapple) in Indonesia (KI) and Japan. in addtion to this, Forest Attachment are produced in Quadco, Canada and LogMax, Sweden.
Recycling Equipment
Designed for on-site recycling of construction waste such as concrete debris, stones, damaged soil and felled trees for reuse as construction materials. Mobile crushers are also used for crushing stones at quarry sites.
Tunneling Machines
Designed for excavating tunnels for roadways, railways and combined use. "Ironmole" is designed for excavating earth and burying drain and other pipes by the non-open excavation method.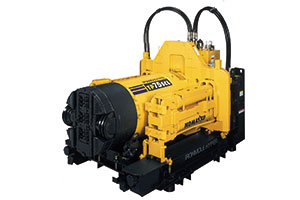 Small-diameter pipe jacking machines ("ironmole")
---