Nov. 20, 2023
Komatsu Ltd. (President and CEO: Hiroyuki Ogawa) (hereafter "Komatsu"), through its wholly owned subsidiary in the U.S., Komatsu America Corp. (Chairman and CEO: Rodney Schrader), has agreed to acquire American Battery Solutions, Inc. (Founder, Chairman and CEO: Subhash Dhar) (hereafter "ABS"), a battery manufacturer headquartered in Detroit, Michigan, U.S. Komatsu is planning to close the acquisition on 1st Dec, 2023, on the condition that all necessary procedures for the closing are completed. The immediate impact on Komatsu's consolidated business results is estimated to be minimal.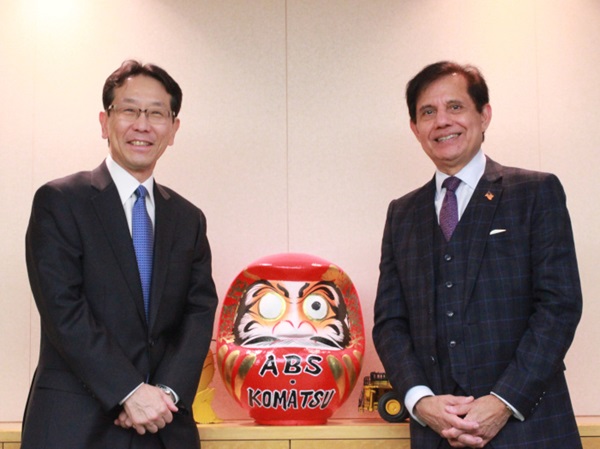 Hiroyuki Ogawa, President and CEO, Komatsu Ltd. (left) and Subhash Dhar, Founder, Chairman and CEO, ABS (right)
ABS develops and manufactures a wide variety of heavy-duty and industrial battery packs, using lithium-ion batteries for commercial vehicles, transit buses and on- and off-road vehicles. The company provides both standard and custom battery systems optimized to each customer's needs. ABS' technology, combined with the advanced product development knowledge and expertise of its people, enables the company to develop and manufacture battery packs designed to deliver superior performance and product life, and to enhance safety.

The acquisition of ABS will enable Komatsu to develop and produce its own battery operated construction and mining equipment, through the integration of ABS' battery technology with Komatsu's knowledge and network. The first equipment with ABS' batteries produced will be used to power mining equipment in North and South America, where demand for electrification has been increasing. In the future, Komatsu will aim to expand the use of batteries in construction equipment and to establish a global supply system. Komatsu will continue to support ABS' battery business to further develop the electrification business post-acquisition.

ABS will operate as a stand-alone business entity within Komatsu and will continue its growth plans by executing on its current and prospective customer programs in the commercial vehicle segments. The mining and construction opportunities provided through Komatsu will enable ABS to position itself as one of the world's leading providers of battery systems in both on-highway and off-highway markets.

Komatsu has positioned FY2023 as the first year for the introduction of electric construction equipment to the market, and the acquisition of ABS will become the milestone of accelerating electrification activities.

Through the acquisition, Komatsu will accelerate the development of battery-powered electric vehicles by utilizing ABS' battery-related technology, along with other initiatives Komatsu is pursuing with its partners, to further contribute to the electrification of construction and mining equipment and the realization of a decarbonized society. These efforts will help Komatsu achieve its management target of 50% reduction of CO2 emissions from the use of its products by 2030 (compared to 2010 levels) as well as the company's challenge target of achieving its carbon neutrality by 2050.

As part of its growth strategy for the mid-term management plan "DANTOTSU Value - Together, to 'The Next' for sustainable growth," Komatsu is working to establish safe, highly productive, smart, and clean workplaces of the future together with its customers and to develop and launch electric equipment so as to achieve carbon neutrality. Through this DANTOTSU Value (which means customer value creation that generates a positive cycle of improvement of earnings and ESG resolutions), Komatsu will create new values for stepping forward to the next stage of future workplaces and passing on the sustainable future to the next generation.


<Outline of ABS>
Name        : American Battery Solutions, Inc.(unlisted)
Founded       : 2019
Headquartered    : Lake Orion, Michigan, USA
Representative    : Subhash Dhar
Major line of business: Development, production, and manufacture of batteries for commercial vehicles
URL: https://www.americanbatterysolutions.com/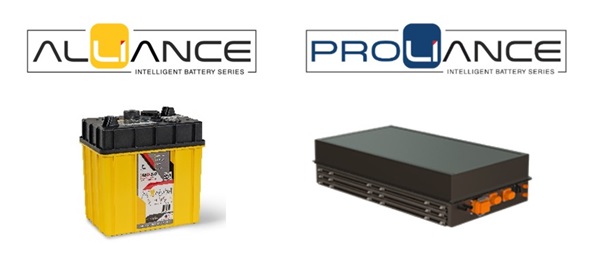 Low-voltage Alliance Intelligent Battery Series battery pack (left) and high-voltage Proliance Intelligent Battery Series battery pack (right)
No : 0065(3288)
Corporate Communications Department
Sustainability Promotion Division
Komatsu Ltd.
tel: +81-(0)3-5561-2616
mail: JP00MB_cc_department@global.komatsu

*The information may be subject to change without notice.