July 21, 2023
Komatsu Ltd. (hereafter "Komatsu") (President and CEO: Hiroyuki Ogawa) plans to introduce PC200LCE-11 and 210LCE-11 models of its 20-ton class electric excavators equipped with lithium-ion batteries, as rental machines in the Japanese and European markets in October or later. Komatsu also plans to gradually introduce these electric models in Asia, North America, and Australia. Komatsu regards the market introduction of this new model as an opportunity to develop, as soon as possible, a market for electric construction equipment, as it strives to become carbon neutral by 2050.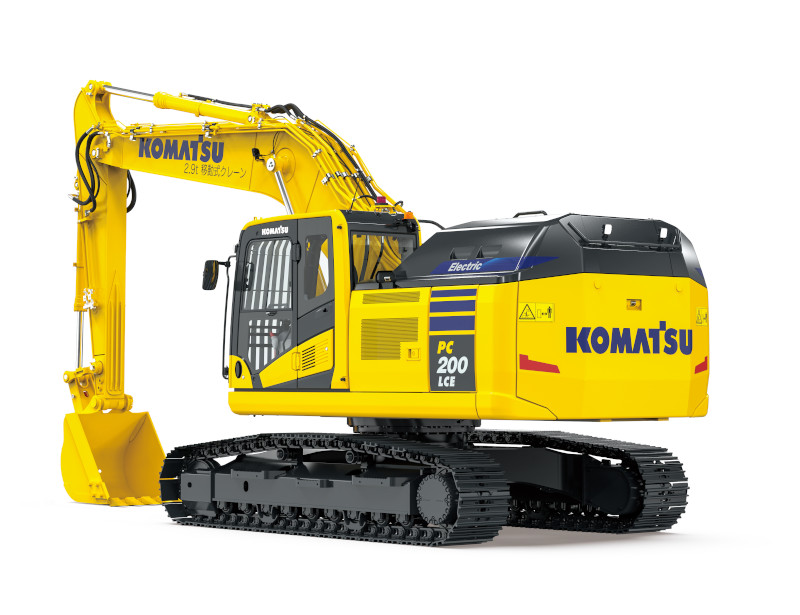 [New 20-ton class electric excavator "PC200LCE-11" equipped with lithium-ion battery]
Komatsu has been jointly developing these electric models with Proterra of the United States, since January 2021. They are equipped with lithium-ion batteries provided by Proterra, which has a proven track record for high-load handling and commercial vehicles in various fields around the world. After conducting the PoC (Proof of Concept) tests at customer jobsites, Komatsu exhibited one of the models at bauma 2022 last October and at CONEXPO-CON/AGG 2023 in March of this year. Now Komatsu is ready to introduce them to the market as rental machines. By having customers, with various operating conditions and power supply environments, use them in regions where the electrified market is expected to be formed in the future, customers will be able to experience their environmental friendliness and safety, while Komatsu will accumulate customer opinions and knowledge to lead to the formation of the electrified market.

Komatsu has positioned FY2023 as the first year for the market introduction of electric construction equipment, and these PC200LCE and 210LCE11 models will follow the 3-ton class electric mini excavator. Hydraulic excavators are the most versatile type of construction equipment, and the 20-ton and other medium-sized class excavators in particular are used in a wide range of jobsites and applications, centering on excavating and loading earth and sand. By launching these models, Komatsu is working to create an electrified machine market for medium-sized class construction equipment.

DANTOTSU Value is defined as customer value creation that generates a positive cycle of improvement of earnings and ESG resolutions in Komatsu's mid-term management plan, entitled "DANTOTSU Value - Together, to "The Next" for sustainable growth". Through this DANTOTSU Value, Komatsu will strive to create new values in order to take steady steps forward to the next stage for the workplace of the future and pass on a sustainable future to the next generation.


[Main features of the products]
1.Environmental and Economic Performance
・Achieving zero exhaust emissions with battery-powered and human- and work-environment-friendly features
The battery-powered system produces no exhaust gases, creating a cleaner work environment. As they will also be friendly to workers and trees in the vicinity of the vehicles, they will be widely used at all kinds of jobsites, including indoor construction, piping work, and construction in urban areas.


2.Comfort and Peace of Mind
・Securing long hours of work with high-capacity lithium-ion batteries
Featuring a Proterra Powered lithium-ion battery system, they store 451 kWh of onboard energy, which enables up to about 8 hours*1 of operating time on a full charge. It takes about 9 hours*2 to fully charge the battery with the included charger.

・Dynamically reducing machine and worksite noise thanks to silent electric motor
Because the power source is a motor, the machines do not generate engine noise. The operator can easily communicate with surrounding workers during the operation, achieving safe and precision-based work.

・Reducing operator fatigue by eliminating machine vibration caused by the engine
As the machines are not equipped with an engine, vibration transmitted to the operator has been greatly improved. The operator feels less stress and fatigue during work, and can work more comfortably.

・Achieving a comfortable work environment by reducing the amount of heat generated by the machines
Because there is no heat source of the engine, the area around the machine does not get hot, making work more comfortable.


3. Safety, Reliability, and Serviceability
・Being equipped with battery components that are very safe and reliable
By using its proprietary matching technology, Komatsu has optimized the overall vehicle control system by coordinating the lithium-ion battery provided by Proterra, which has a proven track record in handling heavy loads and commercial vehicles in different fields around the world, with machine components, such as hydraulic pumps, controllers, and electric motors for work equipment operation, At the same time, Komatsu has also developed a robust battery-protection structure. Komatsu has achieved excavation performance and durability equivalent to those of engine-driven hydraulic excavators.

*1: Hours of work vary depending on jobsite and machine-operating conditions
*2: Charging hours depend on the power supply environment


【Major specs】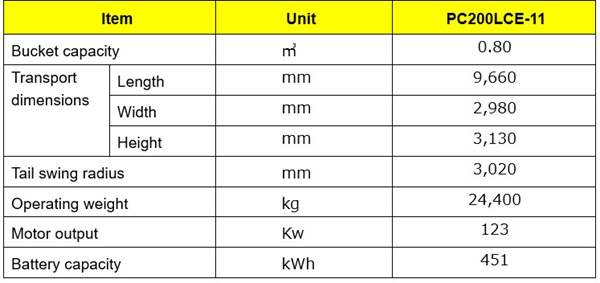 No : 0034(3257)
Corporate Communications Department
Sustainability Promotion Division
Komatsu Ltd.
tel: +81-(0)3-5561-2616
mail: JP00MB_cc_department@global.komatsu

*The information may be subject to change without notice.