June 03, 2022
 Komatsu Ltd. (President and CEO: Hiroyuki Ogawa) and its wholly owned subsidiary Komatsu Chile S.A. (hereafter "Komatsu") are pleased to announce plans for Komatsu FrontRunner, an Autonomous Haulage System (AHS), to be deployed on a total of 62 930E ultra-class haul trucks by 2024 at Los Bronces, a Chilean open pit copper mine operated by Anglo American, a global mining company. The mine site will serve as a showcase for Komatsu's autonomous technology.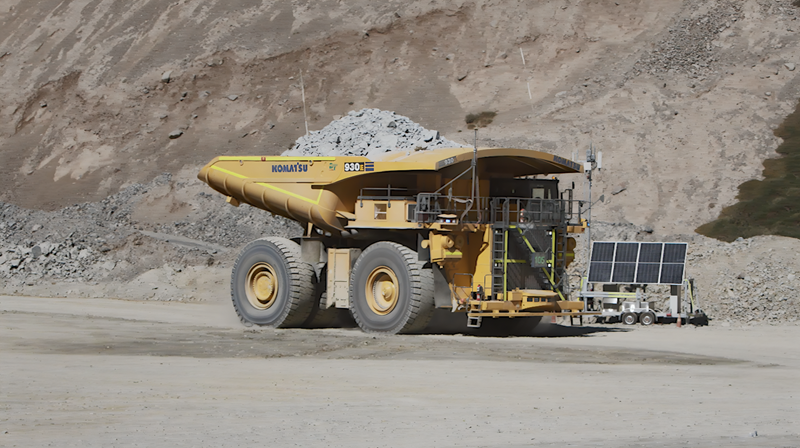 Komatsu's 930E haul truck at Anglo American's Los Bronces copper mine in Chile.
 "We are excited to participate in this initiative to implement autonomous technology and look forward to the opportunity to leverage FrontRunner AHS to help us optimize our mine operations at Los Bronces, convinced that technology is an enabler to improve the way we work and move toward a safer and more sustainable operation, where people are the protagonists of innovation and are at the center of everything we do" said Cristobal Mimica, Mine Modernization Manager Los Bronces, Anglo American.

 "FrontRunner AHS is designed to help mines increase production while promoting zero harm," said Anthony Cook, Vice President for Autonomous Systems at Komatsu. "We're pleased that Anglo American, a long-time partner, has chosen FrontRunner to help achieve their goals and we look forward to continuing to collaborate on future optimization opportunities."

 FrontRunner is a well-proven system, with over 525 trucks deployed since its first commercial deployment in 2008 at CODELCO's Gabriela Mistral (Gaby) copper mine in Chile. Komatsu's approach for FrontRunner AHS brings together ultra-class dump trucks with Modular Mining's industry-leading DISPATCH® Fleet Management System.

 The essential minerals needed to power modern society are getting harder to find and tougher to mine, and customers trust mining companies to deliver these resources. Komatsu focuses on helping mining companies meet those needs productively and responsibly. Together with customers, Komatsu is working to realize safe, highly productive, smart, and clean workplaces of the future.
No : 0018(3138)
Corporate Communications Department
Sustainability Promotion Division
Komatsu Ltd.
tel: +81-(0)3-5561-2616
mail: JP00MB_cc_department@global.komatsu

*The information may be subject to change without notice.