Jun. 10, 2021
Komatsu Ltd. (President and CEO: Hiroyuki Ogawa) (hereafter "Komatsu") and Honda Motor Co., Ltd. (President and CEO: Toshihiro Mibe) (hereafter "Honda") today announced that they have reached a basic joint-development agreement to electrify Komatsu's micro excavators*1, which use the swappable Honda Mobile Power Pack (MPP)*2, and establish a battery-sharing system, which uses the Honda MPP and enables mutual use of MPPs among different construction equipment and other equipment for the civil engineering and construction industries.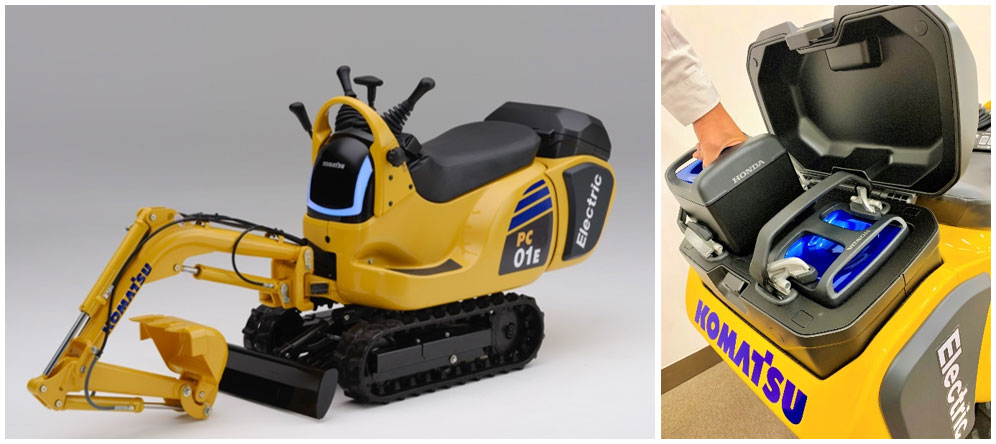 Left: PC01 micro electric excavator (prototype) powered by the Honda Mobile Power Pack.
Right: Honda Mobile Power Pack
Both Honda and Komatsu have led the respective industries, developing products that contribute to mitigating environmental impact. Honda has been expanding the range of products which are powered by the Honda MPP. Komatsu achieved the world's first market introduction of hybrid hydraulic excavators in 2008, and the launch of the PC30E-5 mini electric excavator (hydraulic drive) for rental use in Japan in April, 2020. Under the concerned joint-development agreement, the two parties will electrify Komatsu's PC01 micro excavator by equipping it with Honda MPPs and an electrified power unit (eGX), because it is typically used very close to people, trees and flowers for pipe-laying work, gardening, agriculture, livestock and the like. Komatsu is working to launch the PC01 micro electric excavator by the end of FY2021. Thanks to electrification of the micro excavator, noise and exhaust heat will be dynamically reduced, and the PC01 will be environmentally friendly with no exhaust gas and will enable a comfortable level of work at different work sites, either indoor or outdoor. Furthermore, the swappable Honda MPP offers an innate advantage of continuous use of electric machines without recharging the battery. Equipped with the Honda MPP, the PC01 will simplify the power supply and improve convenience for customers. After launching the PC01, Honda and Komatsu will conduct verification tests to improve the convenience of electric construction equipment by supplying Honda MPPs to civil engineering and construction sites and offering aftersales services, including a battery swapping system.
Looking into the future, the two partners will not only undertake joint electrification of other micro and mini electric excavators of up to the 1-ton class, but also engage in joint studies of MPP-based electrification for a variety of equipment used on civil engineering and construction sites, as well as overseas business launches.
Komatsu is promoting electrification of construction equipment and accelerating their commercialization in order to further disseminate them into the future. Under the current joint development arrangement, Komatsu will work to disseminate electric excavators, (i.e., our micro electric excavators). In addition, a variety of electric equipment on civil engineering and construction sites will join our smart and electric operations, working with Honda's electric mobility and power products. Together with Honda, Komatsu will also work to develop a broad network of MPP-based battery-sharing systems used by the civil engineering and construction industries.
Komatsu will contribute to realizing a recycle-oriented and sustainable society having a zero environmental impact, by further promoting zero emissions from customers' construction sites and by using renewable energy.

Image of a broad-ranging battery-sharing system established thorough utilization of MPP
*1 Under the category of micro excavators, Komatsu offers PC01, PC05 and PC09 models. The PC01 is the world's smallest model which can be transported on mini pickup trucks. These micro excavators s are Komatsu's long-selling products which are typically used in close proximity to people, trees and flowers for piping work, gardening, agriculture and livestock.
*2 Honda Mobile Power Pack is a swappable battery developed by Honda. Honda has introduced multiple MPP-powered business-use two-wheeled and three-wheeled scooters as the Honda e: Business Bike Series.