May 18, 2020
Komatsu group places top priority on the safety and health of our customers and suppliers, residents of local communities, and employees and their families. Komatsu works to prevent coronavirus infections from spreading, based on the policies of the governments of host countries where Komatsu conducts business. Its construction, mining and utility equipment, forest machines and industrial machinery are needed by customers engaging in essential businesses to support critical social infrastructure. For Komatsu to fulfill its responsibilities to customers, it will continue to supply products, parts and service after implementing thorough countermeasures against infections.
In Japan, the government has decided to lift the state of emergency in 39 prefectures on May 14. As we still have some business bases in the prefectures under the state of emergency, we are ensuring infection-preventive measures based on the requests and guidelines of the respective municipal governments. Employees, who are not directly involved in production at plants, engage in teleworking, as a general rule, Concerning the employees directly involved in production at plants, we are taking infection-preventive measures (fever checks, no use of public transportation, and the avoidance of crowded places, such as locker rooms) before starting work.
We will continue to place top priority on health and safety, based on the government's policies, and will start thinking about long-term measures, as we look into "new lifestyles".
In this release, we revise some information in "Coronavirus (COVID-19) Effects on Komatsu Group's Business (3)" of April 21 and provide the latest information.
1.Effects on production and sales
We have worked on the global cross-sourcing and procurement of finished vehicles and parts in order to absorb the impact of changes in market demand and foreign exchange rates. We are working to minimize the effects on production by means of alternative procurement and inventory reallocation.
With respect to our distributors, they are working on the continuous supply of products, parts, and service to customers, as they reassess their supply routes and shift work schedules while teleworking.
Updated conditions of our production bases are described as follows.
[Conditions of main production bases by region] (As of May 18, 2020)*1
*1 Bases as affected by haling operations are described below. (Renewed)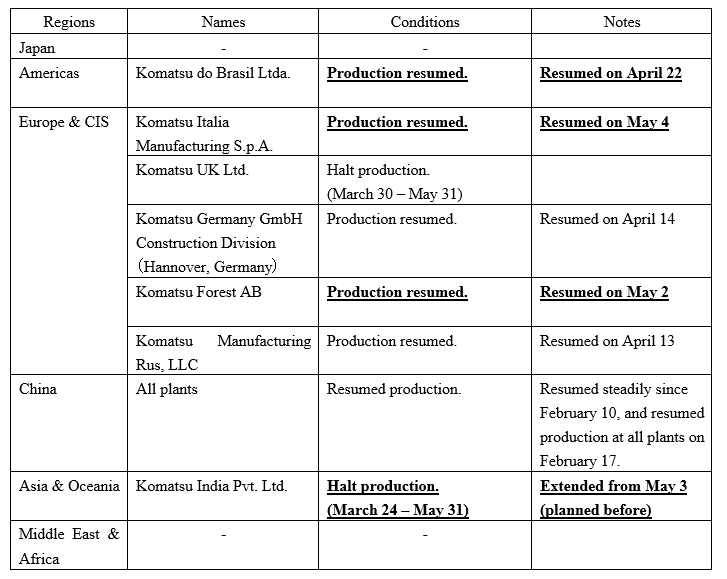 2.Effects on business results
Please refer to today's news release for consolidated business results for the fiscal year ended March 31, 2020, as well as the presentation materials. Concerning the projection of consolidated business results for the fiscal year ending March 31, 2021, it is difficult for Komatsu to calculate them in an appropriate and rational manner, so they remain undecided as of now. Komatsu will disclose them as soon as it becomes possible to calculate them in the future.
> Consolidated Business Results for the Fiscal Year Ended March 31, 2020 (U.S. GAAP)