Mar. 30, 2020
Komatsu Ltd. (President and CEO: Hiroyuki Ogawa) (hereafter "Komatsu") is pleased to announce that Komatsu has launched hydraulic excavators*1 equipped with the in-house developed KomVision Human Detection & Collision Mitigation System as a standard feature for the first time in the industry in the Japanese market.
Komatsu has developed this system by upgrading the "KomVision" bird's eye view camera system equipped with conventional models as standard in the Japanese market. The system recognizes humans around the excavator and prevents the motion of the excavator when the system detects people when the excavator starts to travel or swing. The system also stops the excavator when it detects humans while the excavator is traveling at slow speeds. With these functions, the system helps curb the possibility of collisions between the excavator and people.
This system comes standard on the PC200-11 model, which Komatsu began selling in December 2019. Concerning the conventional models already equipped with KomVision as a standard feature, customers can update the software and retrofit their existing machines*2. With this new system, Komatsu will continue to expand support for workplace safety as its goal. Komatsu will also this system standard in the future on other models*3, as it works to gather market needs and provide customer support in order to further advance its safety support system.
While continuing its commitment to Quality and Reliability and working to maximize its corporate value, Komatsu is working to achieve safe, highly - productive, smart and clean workplaces of the future through DANTOTSU Value (ESG solutions and improvement of earnings through customer value creation).
*1: Equipped as standard on the PC200/200LC-11, PC210/210LC-11
*2: Limited to the models equipped with KomVision for hydraulic excavators. Changing both cameras and software may be needed in some cases.
*3: Komatsu plans to make the system standard on 12 to 40-ton hydraulic excavators (equipped with KomVision) in Japan. Not applicable to some application-specific models (with a two-piece boom, super-long front boom, slide arm, etc.).
[Human detection structure of KomVision]
1.All-around machine monitoring with4 cameras and a monitor
Four monocular cameras capture all-around views of the machine, which are shown on the monitor. The operator can select right, right front, left or rear views.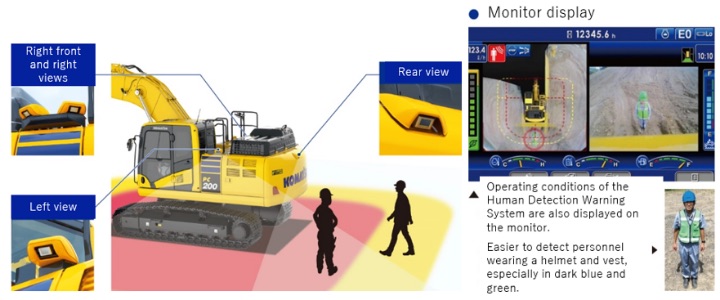 2. Alerting with buzzer and stopping the machine when people are detected
When human are detected inside the detection or stop-controlled area, the system not only displays markers (yellow or red circles) on the monitor, but also alerts the operator with a buzzer.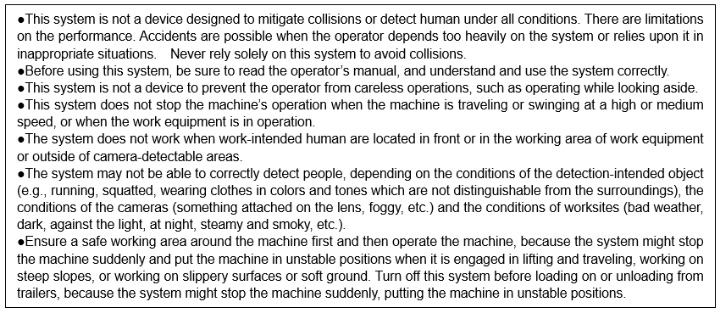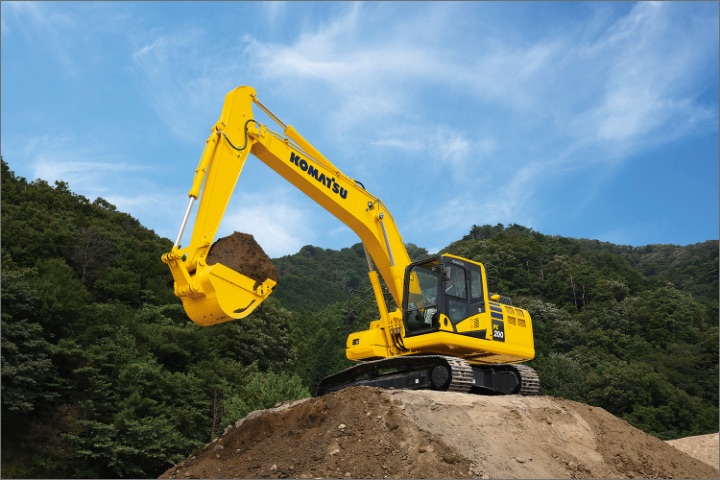 [The PC200-11 equipped with KomVision Human Detection & Collision Mitigation System]