Mar. 25, 2020
Coronavirus' effects have been expanding around the world, as represented by the World Health Organization's declaration of it as a pandemic and the ensuing state of emergency proclaimed by a number of governments.
In response to the policies of different governments, we, at the Komatsu Group, are working to prevent coronavirus from spreading as it places top priority on the health and safety of customers, local communities, and employees. In compliance with the policies, some manufacturing plants of the Komatsu Group are going to halt production temporarily, as described below. At business bases in operation, we are implementing a wide range of countermeasures, including fever checks, the use of face masks, flex commuting, the prohibition of business trips, and teleworking.
We will continue to disclose information concerning this matter.
1. Effects on production and sales
We have worked on global cross-sourcing and procurement of finished vehicles and parts in order to absorb the impact of changes in market demand and foreign exchange rates.Although we are planning to halt production at some manufacturing plants, there are no critical effects on Komatsu Group's production for FY2019, due to alternative procurement and inventory reallocation.
For our sales bases to ensure the continuous supply of products and parts to customers and distributors, we are reassessing our supply routes and engaging in a shift work schedule, in particular.
[Conditions of main production bases by region] (As of March 24, 2020)*1
*1 Bases as affected by halting operations are described below.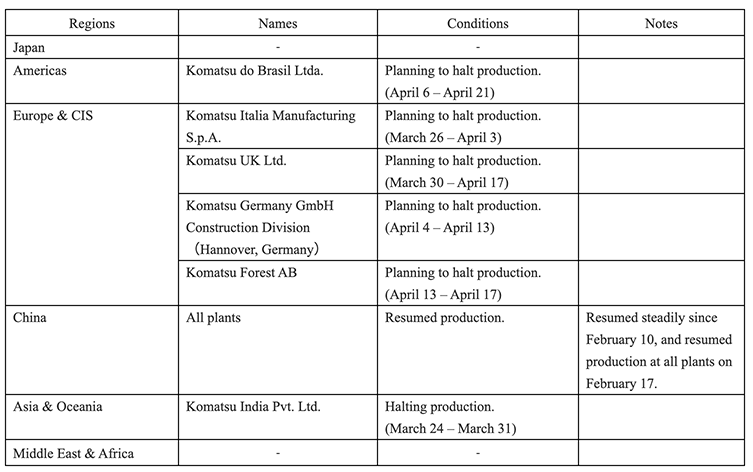 2. Effects on business results
Consolidated business results for FY2019 (ending March 31, 2020), projected on October 30, 2019*2,include no impact of the coronavirus pandemic. We will disclose any considerable effects as soon as we anticipate them.
*2 We did not change this projection when we announced our business results for nine months of FY2019.